HAPPY BIRTHDAY ADAM!
Apparently, on his birthday, Adam takes the night off from sleep-talking. Pity.

But that's ok, cause I have SO many great ones stored up from the honeymoon:
"Don't worry. I'll find it. That's what I do, find things. I find you annoying. See?"
"Next time I lend out my chest hair, it won't be to a dick-face like you. You've got it covered in lots of stuff. It'll take ages to clean up. One hair at a time."
and here, Sleep Talkin' Man abandons his usual cool demeanor, and displays his deep passion for low-quality children's snacks:
"Choc Dip. Gimme Choc Dip. Yes, a Choc Dip. Oh, I want a simple chocolate mother-fucking stupid ass-wiping cock-sucking mother-fucking SHIT FUCK chocolate dip please! Oh, thank you."
or click here
Finally, here is a picture from our honeymoon, in which Adam caresses little Faa Mai during her afternoon nap. Note the helpful instructions on the t-shirt: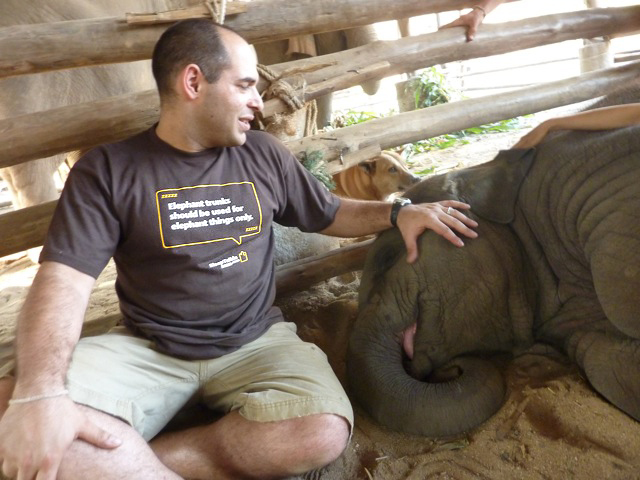 ("Elephant trunks should be used for elephant things only.")