(Poor little Molly the dog is chewing on her foot)

"Nibbling. Stop your nibbling. Always with the nibbling. Nibble my fucking fist! That'll stop your nibbling. Can't nibble with no teeth."

"Damn you lentil gods. Banish thee and your evil produce!"

"Thunder... Thunder- Thundercats are cool. Except for the little ginger one. There's always the ginger one."

or click here
I assume he's talking about this one: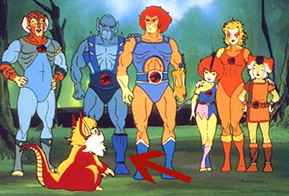 And in response to requests, here's Molly the little beagle: